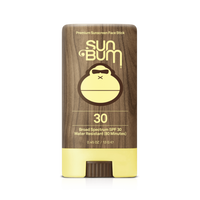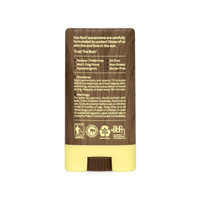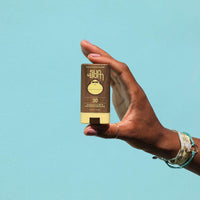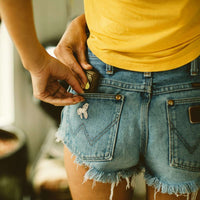 Sun Bum Original SPF 30 Face Stick Sunscreen
Sun Bum Original SPF 30 Face Stick Sunscreen,  Our Broad Spectrum UVA/UVB protection with Vitamin E is available in a convenient and easy to use Face Stick that helps when you're dealing with squirming kids, sandy hands, or just need a quick swipe of sunscreen across your face. Our SPF 30 Sunscreen Face Stick glides on like a dream and fits easily into our pocket, bag or backpack—so we can take it with us wherever we go. Convenient Stick Application in a 30 SPF Formulation. Trust the Bum.

Original Sun Care  This is the stuff we use everyday. It's the formula that started it all. People say it smells like summer. We like that. Whether we're spending a lazy day at the beach or hangin' out on the back porch, our Original formula is definitely our fav.
Dermatologist Tested

SPF Formulation: SPF 30


Stick Application - Clear

UVA/UVB Broad Spectrum Protection

Smooth Light Non-Greasy Formula,

Sun Bum Original Scent

Water Resistant (80 Minutes)


Apply liberally 15 minutes before sun exposure.

Reapply: After 80 minutes of swimming or sweating. Immediately after towel drying.

At least every 2 hours.
Product Friendly Trust the Bum
Won't Clog Pores

Paraben Free / PABA Free

Oil Free

Gluten Free

Cruelty Free

Hypoallergenic

Reef Friendly
Original Formulation: SPF 30

Application: Stick Application - Clear 0.45oz [13g]

Size: 1.2" x 1.9" x 3.3" [3 x 4.8 x 8.5cm]

Weight: 1.4oz [40g]

Approval: DIN Canada

Features: UVA / UVB Broad Spectrum Protection, Water Resistant/80 Minute, Non Greasy

Usage: Beach, Holidaying, Sun Bathing, Boating, Travelling, Walking, Hiking, Running, Skiing, Snowshoeing, Snoboarding, Working Outdoors, Playing Outdoors...