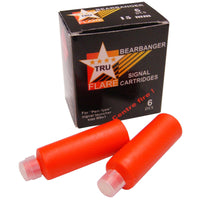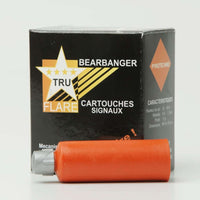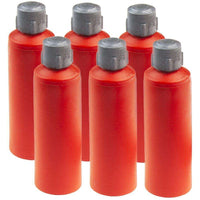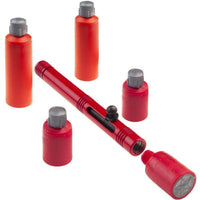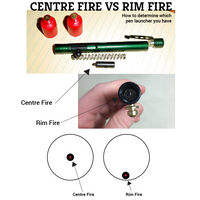 TruFlare Bear Bangers - Centre Fire - Bang
Shipping Restrictions:
ATTN: DUE TO THE NATURE OF THIS PRODUCT 

CERTAIN SHIPPING RESTRICTIONS MAY APPLY!

We are unable to ship to the USA

Ask our sales department as to where they will be shipped
TruFlare Bear Bangers make a loud gunshot style noise. They're intended to scare bears away (when you aim into the air, not at the bear) without harming them. This product is used as a wildlife deterrent as well as a noise locator in dense bush. Projects to about  125' [40m]  Range then explodes with a tremendous Bang/Crack. A great compliment to the Tru Flare Whistle Flare to ensure that you have multiple types of noise deterrent to keep animals at a safe distance.


Centre Fire Type

Projects to 125ft. [40m] Height Range then explode with a tremendous Bang/Crack

A 0.8-1.0 second time delay

Noise Level: 115dB

Designed to produce a very loud bang in the atmosphere.

Box of 6 Tru Flare Bear Banger Cartridges.


Warning: 
Products are intended for use with a CENTRE firing pen launcher.

Please test fire prior to going into the field.

Do not point at humans or animals.

Do not use indoors or in covered areas.

Keep out of reach of children.

Keep out of fires.

 
Colour: Orange Cartridge (Colored orange so are visible if dropped)
Boxed: 6 Centre Fire Cartridges
Firing Mechanism: CENTRE FIRE Launcher only
Weight: 4.2oz [12gr]
Dimensions: 0.71x2.3in [18x59mm]
Diameter: 0.59in [15mm]
Flares and Bear Bangers thread into the Tru Flare Centre-Fire Pen Launchers.
Noise Level: 115dB
Time Delay: 0.8-1.0 seconds
Projects to about 125' [40m] Height Range then explodes with a tremendous Bang/Crack
USES: Outdoor Sports, Camping, Pest Control, Wild Animal Control
Ideal For; Kayak touring, Canoe tripping, Alpine climbing and mountaineering, Camping & hiking, Mountain biking
Centre Fire vs Rim Fire
Be sure to check the launcher you own and make sure you order replacement launchers, Flares, Bangers and Whistles with this in mind. 90+ percent of the products sold in the marketplace have a CENTRE FIRE firing mechanism.
Hazardous Goods
Due to Hazardous Goods Regulations we are not able to ship into the US or Overseas!
Flares & Bear Bangers are classified as Dangerous Goods, and are to be shipped by approved courier only.
Prices DO NOT INCLUDE TAXES & SHIPPING as Additional Charges may apply.
We do not recommend used by or sold to children under the age of 18 years.
Gear Up For Outdoors Ltd. is NOT responsible for any injuries that may occur with the misuse of TruFlare Products.
All TruFlare Products are legal to use and sell in Canada.