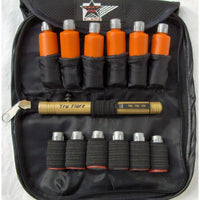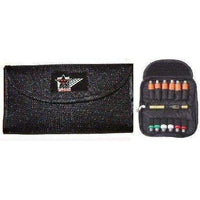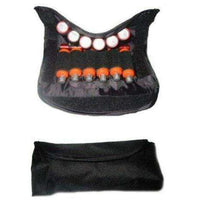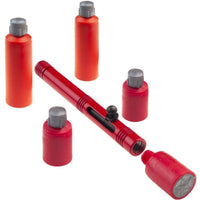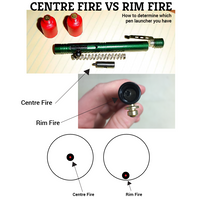 TruFlare Deluxe Soft Case Signal Kit Combo - Centre Fire
The best of both worlds! Fully Loaded and ready to go in a nylon zippered Case. 
A Great Kit to have if you are out in the wilderness or on board your boat! 
You never know when you will need to be seen or heard! 
This bang will alert potential predators of humans in the area. 
They can also alert or signal prearranged messages between parties. This Tru Flare Kit i
ncludes a model 02C Pen launcher, 6 Signal flares & 6 Bear Bangers. Comes in a black Nylon pouch with zipper enclosure.
DELUXE NYLON ZIP PACK COMBO SIGNAL KIT CONTAINS:

1 Only - CENTRE FIRE PEN LAUNCHER
TruFlare Pen Launcher with Center Fire Firing Mechanism!


6 Only - CENTRE FIRE BEAR BANGERS - Cracker
Produces a very loud bang in the atmosphere
Bang alerts potential predators of humans in the area


6 Only - CENTRE FIRE SIGNAL FLARES - Red
Used primarily for distress signalling & will produce a red plume
 
Warning: 
Products are intended for use with a CENTRE firing pen launcher.

Please test fire prior to going into the field.

Do not point at humans or animals.

Do not use indoors or in covered areas.

Keep out of reach of children.

Keep out of fires.

 


Shipping Restrictions:
ATTN: DUE TO THE NATURE OF THIS PRODUCT

CERTAIN SHIPPING RESTRICTIONS MAY APPLY!

We are unable to ship to the USA

Ask our sales department as to where they will be shipped?

Deluxe Kit Contains: (CENTRE FIRE) all items contained in Nylon Zippered Sheath Case
1 Pen Launcher, 6 Bear Banger Crackers, 6 Signal Flares (Red)
Flares and Bear Bangers thread into the TruFlare Centre-Fire Pen Launchers

1. PEN LAUNCHER
Length: 4.73in [12cm]
Diameter: 0.59in [15mm] with thread for flares and Bangers.
Weight: 1.30oz [37gr]

6. BEAR BANGERS
Height Range: 100-130ft [30-40 Meters]
Time Delay: 0.8-1.0 seconds
Noise Level: 115dB
Net Weight: 4.2oz [12g]
Dimensions: 0.71x2.3in [18x59mm]
Diameter: 0.59in [15mm]

6. SIGNAL FLARES
Height Range: 100-150 [30-45+ Meters]
Time Delay: 4.0-6.0 seconds
Net Weight: 4.2oz [12g]
Dimensions: 0.7x1.4in [18x35mm]
Diameter: 0.59in [15mm]

Centre Fire vs Rim Fire
Be sure to check the launcher you own and make sure you order replacement launchers, Flares, Bangers and Whistles with this in mind. 90+ percent of the products sold in the marketplace have a CENTRE FIRE firing mechanism.
Hazardous Goods
Due to Hazardous Goods Regulations we are not able to ship into the US or Overseas!
Flares & Bear Bangers are classified as Dangerous Goods, and are to be shipped by approved courier only.
Prices DO NOT INCLUDE TAXES & SHIPPING as Additional Charges may apply.
We do not recommend used by or sold to children under the age of 18 years.
Gear Up For Outdoors Ltd. is NOT responsible for any injuries that may occur with the misuse of TruFlare Products.
All TruFlare Products are legal to use and sell in Canada.