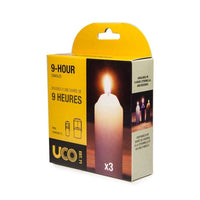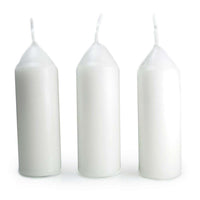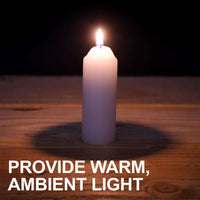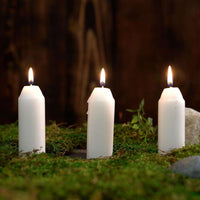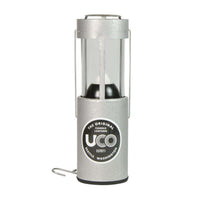 UCO 9 Hour Replacement Candles (3-Pack)
The trusty candle just got better. We've developed and designed our 9-hour candles by fine-tuning the wick size and the wax formula to optimize burn time and reduce soot build-up in candle lanterns. Enjoy more light, longer. 
For use in Original Candle Lantern, Original Candle Lantern + LED and Candlelier Candle Lanterns or for use in a candle holder. 
Burns 9+ hours per candle.
Special wax formula optimized for use in UCO Candle Lanterns.
High-melt temperature minimizes dripping.
Special wick provides ideal flame.
Produces heat to warm tent and reduce condensation.
Economical source of light.
For Use with any of the UCO Candle Lanterns
9-Hr. Long burning non-drip candles.
White (package of 3)
Weight (3-pack): 5.0 oz. (142 g)
Usages: Camping, Home and Cottage