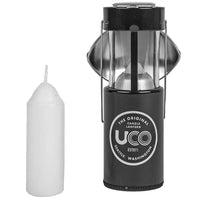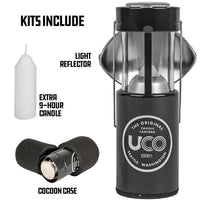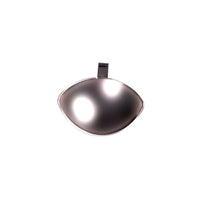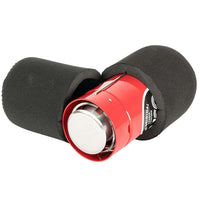 UCO Original Candle Lantern Kit
Chase away the chill with the lightweight, collapsible Original Candle Lantern. This trusted, time-tested lantern fights dampness and brightens up camp or the backyard. Ideal for backpacking, mountaineering, snow camping and other outdoor pursuits, this classic lantern provides cozy heat and natural light for up to 9 hours (per candle). Surrounded by a sturdy painted metal frame and a glass chimney, the candle is lit in a flash—slide the chimney down and light the exposed wick. As the candle burns, the spring-powered tube pushes the candle up for a reliable, constant flame. Monitor the candle for remaining burn time through the viewing slot on the side of the lantern.

Protect your lantern and fine-tune the glow with this Original Candle Lantern Kit. The kit includes the Original Candle Lantern, a side reflector to direct light, and a Cocoon to help prevent scratches, dents and glass breakage during storage and transport. 

Included side reflector clips on easily and directs light to one side.
Included neoprene cocoon slides on easily and helps prevent scratching, dents, and breakage.
Lantern collapses down to 4.25inch [10.80cm]
Lightweight, durable aluminum construction.
Burns long-lasting UCO 9-hour candle.
Easy-slide glass chimney, spring-loaded candle tube, and viewing slot.
Carrying handle, hanging hook, and twist-lock base.
Provides ample light, warms surroundings, and helps remove condensation.

WARNING: To prevent fire, keep burning candle within sight. Never burn a candle on or near anything that can catch fire. Keep out of reach of children and pets
Size: One Size
Color: Assorted
Weight (w/ candle): 8.5 oz. [240g]
Dims–open: 6.5" high x 2" diameter [17 cm x 5 cm]
Dims–closed: 4.25" high x 2" diameter [11 cm x 5 cm]
Candle: UCO 9-hour or citronella candles, or 12-hour beeswax candles
Usages: Camping, Home and Cottage