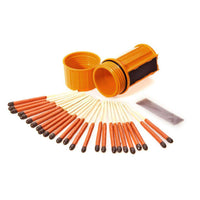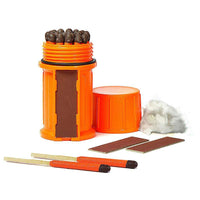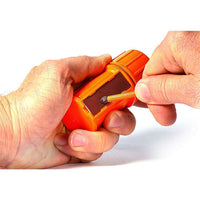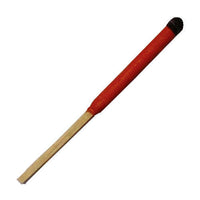 UCO Stormproof Match Kit - 25
Hedge your bets against the weather with a UCO Stormproof Match Kit. Stormproof Matches are windproof, waterproof and light up quickly and consistently in driving rain, heavy winds and falling snow—and will relight even after being submerged in water. Each kit includes 25 matches, 3 strikers and a waterproof case that floats; the case holds up to 40 matches. Secure over 6 minutes of life-sustaining fire wherever life takes you, or during whatever Mother Nature throws your way. 
Stormproof Matches = Windproof + Waterproof + Submersible = 15 Second Burn Time
Durable, waterproof case floats and keeps contents dry and protected.

External, integrated, and replaceable striker for easy lighting.
Includes 25 windproof and waterproof matches and 3 strikers. Match case can hold up to 40 matches.
Matches are easy to light and will relight after being submerged in water.
Up to 15 second burn time.
Extended length of match allows for added safety to keep from burning fingertips.
Lights campfires, stoves, gas-barbecues, etc.
Use UCO Stormproof Match Pack to Refill your UCO Stormproof Match Kit.
Size: One Size
Color: Assorted
Case Weight: 1.7oz. [48 g]
Case Dimensions: 1.5 x 3.15 inch [3.8 x 8 cm.]
Quantity: 25 Matches & 3 Strikers (Can hold up to 40 Matches
Type: Windproof, Waterproof, Submersible
Burn Time: Up to 15 seconds

Length: Long Stick - 2.75inch [7 cm] matchsticks protect fingers against burns

Usages: Camping, Hiking, Climbing, Boating, Survival Kits
Read Important survival tips for starting a fire when you really need one: Fire Starting 101 Series


PERFORMANCE TIPS:
For lighting a match, it is ideal if the striker is a firm surface which can usually be achieved by just closing the box.
If striker and box become wet, the striker will still work, but needs to dry first so that the surface is once again firm. Use a spare striker until then.
If matches become wet, just wipe dry before use.
SAFETY TIPS:
Strike away from the body or in a downwards position. Be careful of bystanders.
Be careful when striking the match since sparks can fly off the igniting head.
After using the match, run it in water to be certain that it will not light anything else on fire.