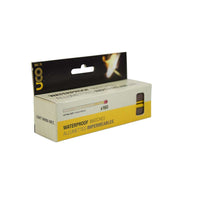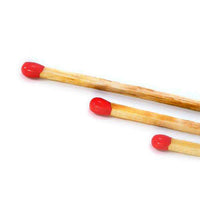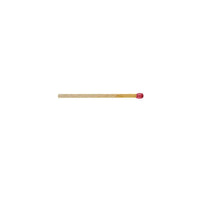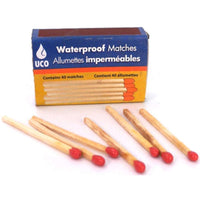 UCO Waterproof Matches - 4 Pack
Repel water and ensure a more consistent light in the outdoors with UCO's Waterproof Matches. Ideal for adventures in adverse conditions, barbequing on the boat or an unexpected emergency, these matches have a durable waterproof coating that provides the security of light and warmth in compromising situations. Each packet contains 4 boxes of 40 matches each (160 total matches), so stash a box in your backpack, glove box, survival kit and boating supplies for a little peace of mind.
Matches  = Waterproof = Up to 15 Second Burn Time
Includes 160 total matches

Waterproof safety matches light even after being soaked in water.
Sturdy carbonized match stick for safe and reliable fire starting.
Water-resistant box and strikers.
Ideal for camping, hiking, boating, survival kits, etc.
Contains 4 boxes with 40 matches per box. 

(160 total matches)

Upgrade to the UCO Stormproof Match (Wind/Water/Submersible)
Size: One Size
Match Box Weight:

0.8 oz. [22 g]

Quantity: Contains 4 boxes with 40 matches per box.
Total: 160 matches
Type: Waterproof
Burn Time: Up to 15 Seconds

Length:

2.125" [5.4 cm]
Usages: Camping, Hiking, Climbing, Boating, Survival Kits
Read Important survival tips for starting a fire when you really need one: Fire Starting 101 Series


PERFORMANCE TIPS:
For lighting a match, it is ideal if the striker is a firm surface which can usually be achieved by just closing the box.
If striker and box become wet, the striker will still work, but needs to dry first so that the surface is once again firm. Use a spare striker until then.
If matches become wet, just wipe dry before use.
SAFETY TIPS:
Strike away from the body or in a downwards position. Be careful of bystanders.
Be careful when striking the match since sparks can fly off the igniting head.
After using the match, run it in water to be certain that it will not light anything else on fire.