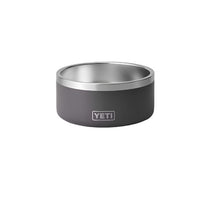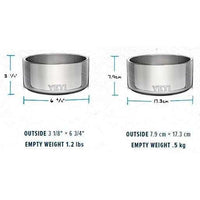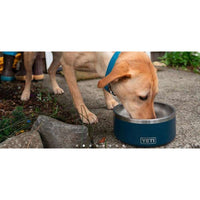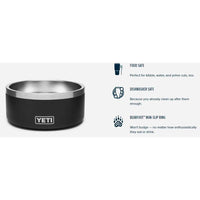 Yeti Boomer Dog Bowl - 2 Sizes
Meet Our customer-favorite Boomer. A YETI Dog Bowl designed to be as dependable and adventurous as your best friend. Available in a smaller pawprint. The four-cup bowl is built for the smaller adventure companions who still require the same rugged durability and smart, non-slip design. The larger eight-cup bowl provides refreshing water and tasty treats, and built with double-wall, non-insulated stainless steel making it incredibly durable, easy to clean, and resistant to rust and roughhousing. When they've successfully licked Boomer clean, just throw it in the dishwasher, because time is better spent on the boat, duck hunting, or exploring new trails together. 


FOOD SAFE:  Perfect for kibble, water, and prime cuts, too.
DISHWASHER SAFE: Because you already clean up after them enough.
BEARFOOT NON-SLIP RING: Won't budge — no matter how enthusiastically they eat or drink.
BPA-FREE: Keep your dog healthy and well fed with peace of mind.
18/8 STAINLESS STEEL: Puncture resistant, rust resistant, and tough enough to handle roughhousing.
DURACOAT COLOR: Built to last. No peeling, or cracking here.


Your dog deserves gear that's as dependable and down for adventure as they are. Dishwasher-safe, scoot-resistant, trust these dog bowls the next time you're serving up a well-deserved dose of fresh water, kibble, and prime cuts
Sizing: Small/4, Large/8
Color: Assorted
Material: Duracoat

double-wall, non-insulated stainless steel making it incredibly durable, easy to clean, and resistant to rust and roughhousing

Dimensions:

Small/4:

3 1/8" x 6 ¾" [7.9 x 17.3cm] - 1.2lb [0.5kg]

Large/8:

3 ½" x 8" [8.9 x 20.3cm] - 1.9lb [0.9kg]

Usages: What… You Need to ask… I have to eat too you know… Woof Woof