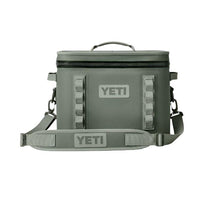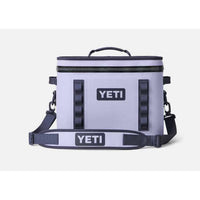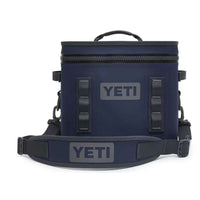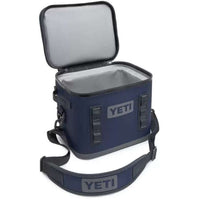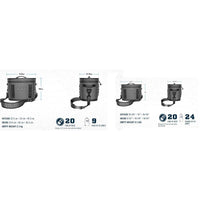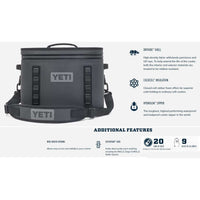 Yeti Hopper Flip 18 Soft-Sided Cooler
The weekend is young, so pack up your new Hopper Flip18 and head for the hills. The bigger build suits your larger hauls and longer expeditions. Set out with your lunch while you work for your dinner, have a couple cold ones to kick back with after. Hopper Flip 18 is durable, leakproof and versatile with the HitchPoint Grid for tools and accessories. And like all YETI coolers, it's equipped with superior insulation to keep the cold for days.
ColdCell Insulation: a closed-cell foam that offers superior cold-holding to ordinary soft coolers, with a capacity of up to 12 cans plus ice
100% leakproof HydroLok Zipper: and the wide-mouth opening means great accessibility and visibility to contents
The DryHide Shell: is waterproof and resistant to mildew, punctures, and abrasions so it will hold its own when faced with the hazards of the wild
Hitchpoint Grid: Easily attach pretty much anything, including the MOLLE Zinger & MOLLE Bottle Opener.
Capacity: to hold 20 Cans of Beer - Using a 2:1 ice-to-can ratio by volume and 24 lbs [9.0kg] of ice only.
Sizing: Fits 20 Cans of Beer - Using a 2:1 ice-to-can ratio by volume
Accommodates 24 lbs [9.0 kg] of ice only
Color: Assorted & Seasonal Selections
Outside: 10.74" × 13" × 16.25" [27.3 cm × 33 cm × 41.3 cm]
Inside: 8.50" × 10.23" × 14.25" [21.6 cm × 26 cm × 36.2 cm]
Weight Empty: 6.16 Lbs [2.3 kg]
Usage: Camping, Group Outings, Picnic, Fishing