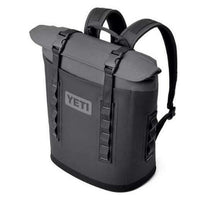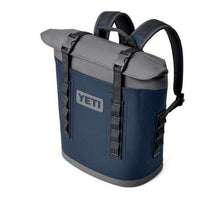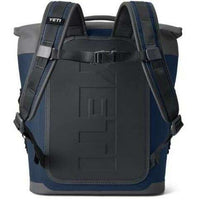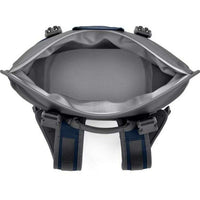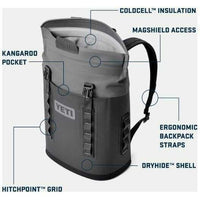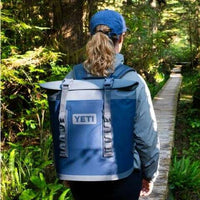 Yeti Intermational M12 Hopper Backpack
Made for comfort, the YETI Hopper M12 Backpack soft cooler is designed to fit wine bottles, and can carry up to twenty 12 fl. oz. cans of your favorite beverage to picnics, parties and campouts.
Foldover top secures with 2 quick-release buckles for easy and secure transport to your favorite outdoor spots
Durable and powerful magnets create a highly leak-resistant shield that stays open when you need it and snaps closed with a gentle push
Kangaroo pocket lets you easily stash away keys, a wallet or phone so you can get going
Attach accessories such as the YETI Rambler bottle sling to the cooler's HitchPoint™ Grid to bring even more gear along (accessories not included)
Slim, tapered design and ergonomic straps evenly distribute weight for a seamless haul
WARNING: Do not leave your soft cooler open in the presence of children and animals.
Entrapment and suffocation can occur.
WARNING: Hopper® Soft Coolers are not compatible with dry ice. Use of dry ice will cause airtight vessel to explode.
WARNING: This product contains magnets. Placing near a pacemaker may cause interference.
● MAGSHIELD ACCESS
Durable and powerful magnets create an ultra leak-resistant shield that stays open when
you need it and snaps closed with a gentle push.
● DRYHIDE™ SHELL
Easy-to-clean, high-density fabric resists punctures and UV rays.
KEEPS YOUR ESSENTIALS AT HAND
● KANGAROO POCKET
Phone, keys, wallet, or a little bit of hot sauce. Easily access all your must haves.
● HITCHPOINT™ GRID
Securely attach your SideKick Dry™ Gear Case or load it up with zingers, nippers, bottle
openers, and multitools.
● COLDCELL™ INSULATION
Closed-cell foam offers impressive cold-holding capabilities, helping keep your frosty
goods ice cold.
● LEAKPROOF LINER
RF welding used to eliminate stitching and provide leakproof seams in the interior liner
● DOUBLE-STITCHED CARRY
Every pick-up point is reinforced so you can handle more weight than you'd prefer to
carry.