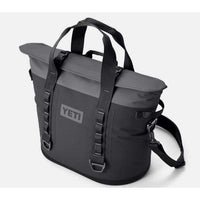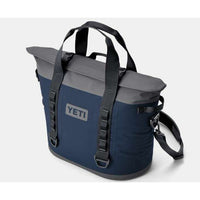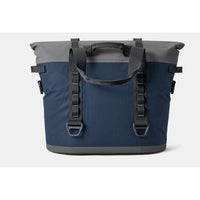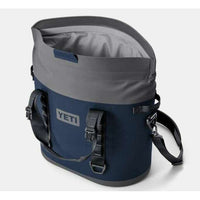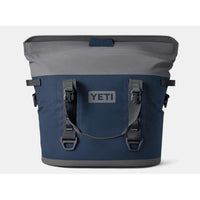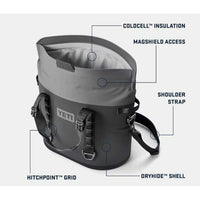 Yeti International M30 Hopper 2.0
The redesigned
Hopper
®
M30 Backpack Cooler features a new, leak
-
resistant
MagShield Access top that stays open for loading and shuts easily when you're on the
move. The ultra
-
durable DryHide™ Shell is made from a high
-
density fabric that
withstands punctures and UV rays,
and the ColdCell™ insulation means everything you
put inside stays cold all day long.
WARNING

:
Do not leave your soft cooler open in the presence of children and animals.
Entrapment and suffocation can occur.
WARNING: Hopper
®
Soft Coolers are not co
mpatible with dry ice. Use of dry ice will cause 
airtight vessel to explode.
WARNING: This product contains magnets. Placing near a pacemaker may cause interference
Easy to open. Tough to break
Magshield Access: Durable and powerful magnets create an ultra leak-resistant shield that stays open when you need it and snaps closed with a gentle push

Dryhide shell: High-density fabric withstands punctures and UV rays. To help extend the life of the cooler, both the interior and exterior materials are treated to be mildew resistant

Coldcell Insulation: Closed-cell foam offers impressive cold-holding capabilities, helping keep your frosty goods ice cold

Leakproof Liner: RF welding used to eliminate stitching and provide leakproof seams in the interior liner

Double-Stitched carry: Every pick-up point is reinforced so you can handle more weight than you'd prefer to carry

Hands-Free hauling: slim, tapered design and ergonomic straps evenly distribute weight for an easier haul