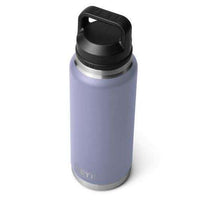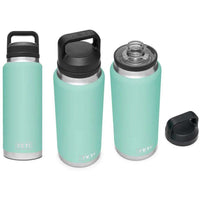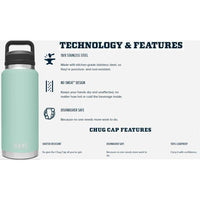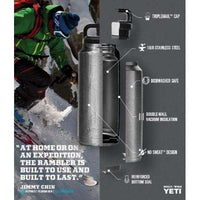 Yeti Rambler 36oz Bottle With Chug Cap
The Yeti Rambler 36oz. [1L.] Reusable Bottle is designed for a life in the wild. Scorching days on the ranch and keeping you hydrated through rugged terrain are this bottle's calling, second only to keeping your drinks icy cold  and comes standard with the Chug Cap.  With a quick twist, the TripleHaul handle comes off, exposing our shatter-resistant, dishwasher safe spout that allows for controlled gulps on the go. When it's time for a wash or refill, remove the entire cap to expose the bottle's wide mouth. Find a color that calls to you – big bottles are available in stainless, DuraCoat, and Seasonal finishes.
18/18 Stainless Steel: Made with kitchen-grade stainless steel, so they're puncture- and rust-resistant.

Double-Wall Vacuum Insulation: Keeps cold drinks cold and hot drinks hot until the last sip.
No Sweat Design:  Your hot drinks stay hot without burning your hands, and your cold drinks stay cold without leaving a mark.
Triplehaul Cap|Chug Cap: The 100% leakproof insulated cap with a 3-finger grip. A quick half-twist of the TripleHaul Handle to open and then you're good to go, making it easy to steal a sip without slowing down. Its classic spout allows for speedy gulps
Over-The-Nose Technology: Extra-wide opening for easy loading, drinking, and cleaning
Dishwasher Safe: Because no one needs more work to do.

Duracoat Color: Built for the wild, this color won't peel or crack.
Important: 
The Chug Cap is not intended for use with carbonated, perishable, or hot beverages. 
Color: Assorted & Seasonal Selections
Available in Stainless and DuraCoat colors.
Volume: 36oz [1.0 L]]
Dimensions: 3 3/4" × 11 ½" [9.5 x 29.2 cm]
Weight Empty: 24.5 oz. [694 g]
Material: Durable 18/8 stainless steel and No Sweat Design
Chug Cap Lid
Great for Camping, Boating, Travel, Work and Office