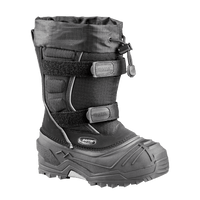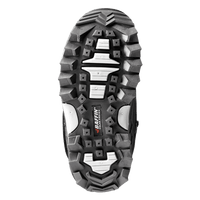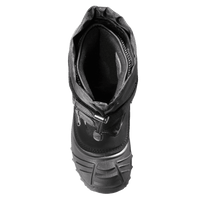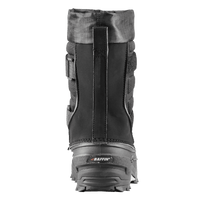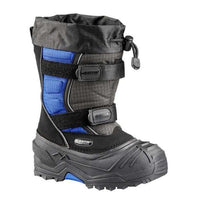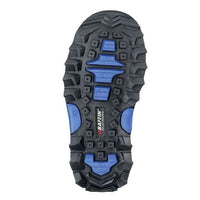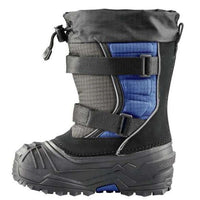 Baffin Kids Youth Young Eiger Winter Boot (Polar Rated)
Baffin Kids Youth Young Eiger is part of Baffin's Young Kids Series Youth Footwear they are Polar Rated with a comfort level of approximately -76F [-60C] in active use, this group of boots will take you through the toughest winter activity while keeping you warm and managing the moisture you generate... YOUNG EIGER is equipped with the same comfort, warmth and quality as any of our adult boots. These lightweight, flexible boots allow for kids to take on the winter in any weather. Whether it's recess, the park or in your own backyard, your kids will have the same Baffin confidence you do. Snowmobiling, Ice Fishing, Skiing, Snowshoeing, Skating, Sledding... Ice Paw Technology improves contact-point grip on ice and snow for superior traction!

Cold Comfort Rating:  Polar Rated
Approximated Comfort Level:  -76F [-60C]

For the coldest moments on Earth. Polar Rated cold-comfort is achieved with moderate to high activity and has been Polar Proven® by us on expeditions to both the North and South Poles.

Youth Fit: 11, 12, 13, 1, 2

"Right out of the box fit"

 
UPPER:
Ankle-height with Velcro strap for easy fastening & adjustment
Nylon Locking snow collar for deep snow protection with toggle for adjustment.


Reflective Piping for visibility at night

Rip Stop Nylon


INSULATION:
Removable Comfort-Fit multi-layer inner boot system featuring:
Thermaplush soft, next-to-foot wicking layer for warmth
Form-fitting B-Tek Foam lining for comfort
B-Tek Heat lightweight, 4-channel hollow-fibre insulation for high-loft breathability in a broad range of temperatures
Vaporized Aluminum Membrane for energy reflection and heat regulation
PolyWool polyester wool blend for breathable warmth
Hydromax layering for improved moisture management
Diamond Net insulation for wind-resistant protection with a lightweight feel


BASE:
Polar Rubber outsole for maximized grip and longevity of boot at cold temperatures

ArticRubber compound in the shell to provide tough cold weather flexibility in cold environments.

 


PERFORMANCE TECHNOLOGY
Made for Kids Playing In Our Harsh Canadian Winters!
Polar Proven Footwear
Baffin YOUNG EPIC Series - Youth Sizing:
Boys/Girls: 11, 12, 13, 1, 2
Height: 10.50 in. [25.40 cm]
Weight: of Pair: 4.92 lbs [2.23 kg] * Based on a Junior Size 4
Fit Tip: True To Size
Cold Comfort Rating: Polar
Comfort Rated: -76F [-60C]
Color: Black, Charcoal/Blue
Replacement Liner: [EPIC YR01]

YOUNG EPIC SERIES TECHNOLOGY:
These boots are equipped to keep you warm, dry & comfortable in climates as severe as -60C/-76F. A Multi-layer removable inner boot system provides excellent thermal resistance & vapor transfer for long term performance & unparalleled comfort.
Waterproof Rip Stop 1000 Denier Nylon. Technologically advanced IcePaw tread design that improves contact-point grip on ice and snow for superior traction. Expanded the toe box for a more comfortable fit and toughened the shell to give the ultimate in comfort and performance. Timeless styling & a commitment to workmanship make the Young Epic Series an excellent choice for the young serious Outdoor Enthusiasts!

Baffin Icepaw Technology:
Inspired by the Polar Bear's surefooted grip on icy terrain, Baffin Outsoles with IcePaw Technology combine icepaw pads to the bottom of the outsole. These pads are molded directly to the outsole from a proprietary compound that has a remakable grip on both ice and snow. IcePaw Outsoles add confidence to any activity requiring extra grip in winter's most slippery conditions.