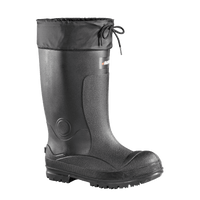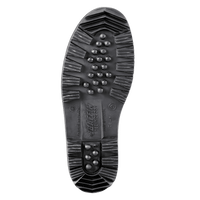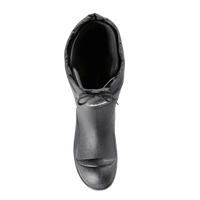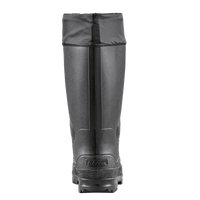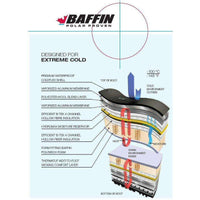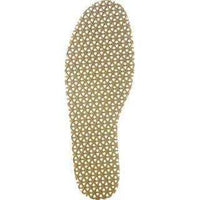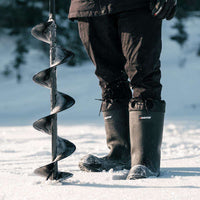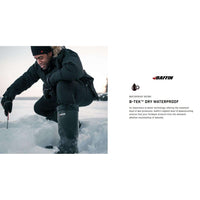 Baffin Mens Titan Winter Rubber Boot (Polar Rated)
The Baffin TITAN Plain Toe Rubber Polar Series winter boot has been the hunters, trappers, and ice fisherman's trusted boot of choice for many seasons is perfect for wet and cold outdoor activities. The Titan is Polar Rated with a cold comfort rating of approximately -148F [-100C] in active use! Our Number #1 Selling Boot for Recreational Ice Fishing - Warm & Dry! A hugely successful boot for the past 18+ seasons! Work & Play. The TITAN Rubber Boot is our most popular ice fishing and snowmobiling boot in the line-up. Full Molded Upper for oil resistance & where splash conditions exist! Great for going for a ride after work on the snow machine or ice fishing. Available in the Baffin Titan CSA1 Industrial work boot.


Cold Comfort Rating:  Polar Rated
Approximated Comfort Level:  -148F [-100C]

This series is appropriate for extended periods of time in Extreme cold weather, snow and /or ice covered environments, where activity level may be low to moderate. Polar Proven by us on expeditions to both the North & South Poles or for the coldest moments on Earth

Fit Tip: Mens Style, True to size or up a size for more room, more socks.


UPPER: 
Acid & Oil resistant Oarprene compound


Full molded waterproof rubber boot

1" Snow Cuff

Shin protection


INSULATION:
Winter-Proof Insulated Upper

8 Layer Liner: Manages Moisture away from the foot keeping the foot dry and warm in extreme conditions! 

Removable Comfort-Fit multi-layer inner boot system featuring:
Thermaplush soft, next-to-foot wicking layer for warmth
Form-fitting B-Tek Foam lining for comfort
Double B-Tek Heat lightweight, 4-channel hollow-fibre insulation for high-loft breathability in a broad range of temperatures
Vaporized Aluminum Membrane for energy reflection and heat regulation
PolyWool polyester wool blend for breathable warmth
Hydromax layering for improved moisture management
Diamond Net insulation for wind-resistant protection with a lightweight feel
High Density Waffle-comb footbed designed to trap warm air and control odor
Double aluminum insole returns heat and reflects cold for temperature regulation


Insole: Waffle Sole/Reflective "Air Bubble" underfoot

BASE:
Snowshoe compatible
Fully molded Polar Rubber outsole for durability and maximized grip in snow

PERFORMANCE TECHNOLOGY
Made for Canadian Winters!
Polar Proven Footwear
Baffin Mens Polar Proven Winter Series Boots
Color Stocked: Black
Height: 15.5 in. [39.4 cm]
Weight: Pair: 7.44 lbs [3.37 kg] * Based on Men's Size 9
Fit Tip: Very Thick Liner/Insole - May want to Size Up 1 Size - But beware after time the foam liner packs down
Cold Comfort Rating: Polar
Comfort Rated: -148F [-100C]
Material: Full molded waterproof rubber
Replacement Liner: [L904A100/POLAML02]
POLAR PROVEN EXPEDITION COLLECTION:
Baffin's Polar Proven specialized boots are rated to perform at -148F/-100C. Tested at both the North & South Poles, these boots perform flawlessly under the most demanding conditions. In our Polar liners we doubled up on B-Tek Insulation and added a double aluminum insole & waffle-comb foot-bed to trap the warm air produced by your body and keep the cold out. This series is appropriate for extended periods of time in extreme cold weather, snow and/or ice covered environments, where activity level may be low to moderate. A great Boot for Snowmobiling & Ice Fishing.