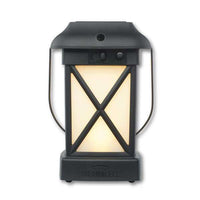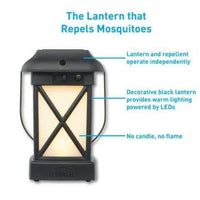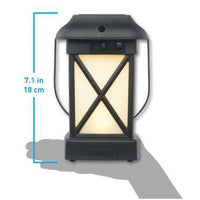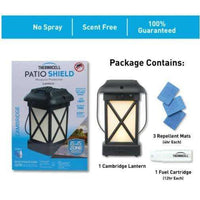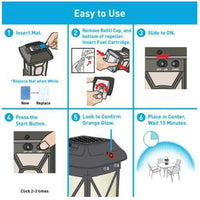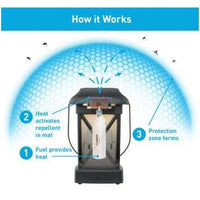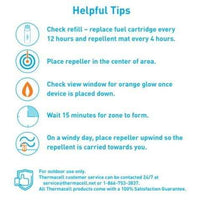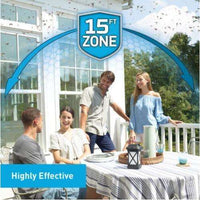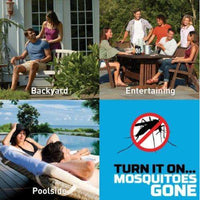 Thermacell Patio Shield Mosquito Repeller Lantern XL
The Thermacell Cambridge Mosquito Repellent XL Lantern effectively repels mosquitoes by creating a 15-foot zone of protection. Its ambient light and decorative design perfectly adorn your deck or patio and is ideal for use while entertaining guests, gardening, around the backyard, and more. Turn it On, Mosquitos Gone.
15-foot mosquito protection zone. Turn it on...Mosquitoes GONE!
Lantern and repellent operate independently or together
Decorative black lantern provides ambient lighting powered by warm LEDs
No spray and no mess. Scent-free and DEET-free.
No open flame, no smoky candles


Contains: 1 lantern and 12 hours of refills - 3 repellent mats and 1 fuel cartridge.
Requires: 4 AA-batteries (not included). 
Lantern Color: Olive Green
Sizing: LWH: 4.75" x 5" x 7.1" [ 12.06 x 12.7 x 18.03cm]
Weight: 16oz. [453.6g]
Settings: Two light settings
Power: Lights operate on 4 AA-batteries (not included)
Intensity: 1 220 Lumen LED Light for brightness at night [low glare LED light]
Creates a 15 x 15 ft [225 sq ft]
Hours of Protection: 12HR
Active Ingredient: D-cis/trans allethrin
"Mosquito-Free-Zone"
For use; camping, hunting, and fishing, sitting outdoors
Ideal for use while you are gardening, observing outdoor sporting events, and hanging around the backyard.
How it Works:
ThermaCELL uses revolutionary, patented technology to dispense a small amount of repellent into the air over a long period of time.
ThermaCELL is powered by an iso-butane cartridge which provides the cordless, portable heat necessary to operate the device (batteries are not needed).
It directs the heat to a metal grill.
A mat saturated with Allethrin, a copy of a naturally occurring insecticide found in chrysanthemum flowers, is placed on top of the metal grill.
The heat generated by the butane cartridge vaporizes the repellent allowing it to rise into the air, creating a 15 x 15 ft (225 sq ft)
"Mosquito-Free-Zone" in minutes.
The repellent is very unpleasant to mosquitoes, but when used as directed, will not harm humans or pets.