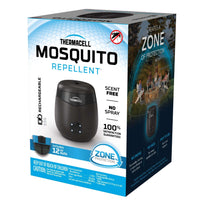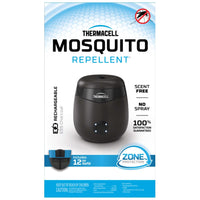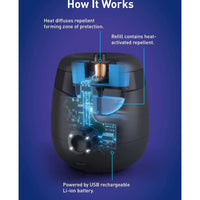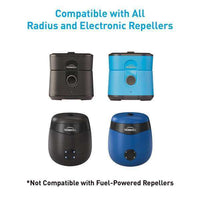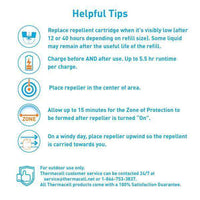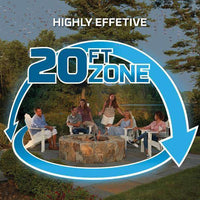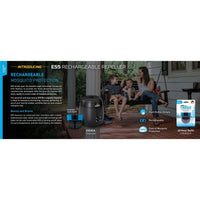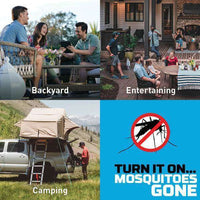 Thermacell Radius E55 Mosquito Repellent Recharge Repeller
The New Thermacell E55 provides a 20-foot zone of advanced mosquito protection. Features a 5.5-hour battery – can charge while operating to extend run time. 12 hours of mosquito repellent included. Audio cues and LEDs let you know you're protected and how much battery life remains. Keep mosquitoes away with the simple push of a button. 
E55 creates a 20-foot zone of protection against mosquitoes

Easy to use, Simple push-button activation.
Powered by a rechargeable lithium-ion battery with up to 5.5 hours of continuous mosquito protection per charge.
USB charging makes charging easy.
Fully charges in 5 hours and can be used while charging.
Can charge while operating to extend run time.
107sq ft [10 sqm] field of protection in 10–30 minutes.

No open flame, smoldering coil or scent.


Scent-Free, No-Smoke, No Mess. Unlike candles or torches.

Long Lasting Refills keep you protected A single long-lasting refill cartridge (up to 40 hours available) can last the entire season (12 hours included).

Fully charged battery will provide 6-7 hours of protection.
LED battery charging indicator light and audio cues let you know how your battery is doing, operation status and more.

Lock-out mode prevents accidental activation, great for getting to-and-from.


Repels tough mosquitoes including those that may transmit Encephalitis, Chikungunya, West Nile Virus and Zika Virus.

Active ingredient: Metofluthrin.


The Replacement Thermacell Rechargeable Mosquito Repeller Refills will give you 40 hours of relief!
In the box: E55 Repeller, 1 x 12 hour of refill and a USB charger.
IMPORTANT: Do not store with battery completely discharged. Batteries should be charged at least once every 3 months during storage. Battery should be discharged and charged after being stored more than a year to maintain optimal battery capacity
Lantern Color: Assorted
Sizing (LxWxH): 4 x 4 x 6 inch [10.16 x 10.16 x 15.24cm]
Weight (lb): 0.8lb [0.362kg]
Hours of Protection Included: 12 Hours
Zone of Protection: 20 Feet [6.1m]
Active Ingredient: Metofluthrin
Ideal for use while you are gardening, observing outdoor sporting events, and hanging around the backyard.