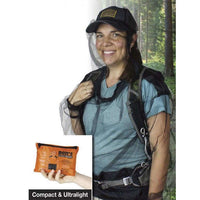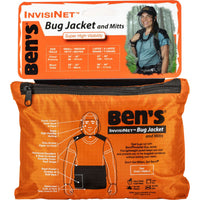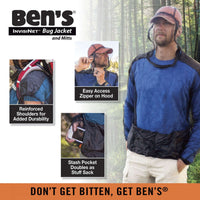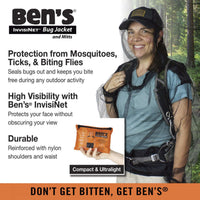 Ben's InvisiNet Bug Jacket & Mittens
Protect your arms, hands, head, and torso from swarms of insects with Ben's InvisiNet Bug Jacket & Mittens. Made with the highest visibility mosquito netting on the market, this mesh jacket seals bugs out without impeding your vision, so you can keep hiking, gardening, fishing, or hunting in peace. The fully enclosed hood, elasticized cuffs and hem, and included bug mittens create a secure, bug-free area around your body, protecting you in even the buggiest conditions.
Protection from Mosquitoes, Ticks, & Biting Flies
Keep mosquitoes, ticks, gnats, black flies, and other biting insects at bay. This mosquito netting seals bugs out and keeps you bite free when you're hiking, hunting, fishing, or gardening.
High Visibility Insect Netting
Enjoy the scenery without the bugs. The hood features Ben's
Lightweight, Durable Bug Clothing
Count on this bug jacket to hold up without slowing you down – it weighs just 4 oz.! Durably constructed, the mesh is reinforced with nylon at the shoulders and waist where your pack sits.
Complete Insect Protection
Protect your head and torso from itchy bug bites and insect-borne diseases. The mesh jacket's elasticized cuffs and hem create a secure barrier, while the mittens shield your hands from bugs.
Elasticized Hood with Zipper
Trust the elasticized crown to hold the hood in place on your head or hat no matter your movement. The zippered neck provides easy access to your face for eating and drinking.
Convenient Pocket & Stuff Sack
Keep your phone, bandana, wallet, or bug mittens in the pocket of your bug clothes for instant access. The pocket doubles as a stuff sack for the jackets and mittens.
Color: Mesh
Sizing: Small/Medium, Large/XLarge
Fabric: High Visibility Insect Netting
Small/Medium

Chest: 34 - 40inch [86 - 101cm]
Waist: 28 - 34inch [71 - 86cm]

Large/XLarge

Chest: 42 - 48inch [106 - 121cm]
Waist: 71 - 86inch [91 - 111cm]

Protects you from: Mosquitos, Ticks and Biting Flies
Usages: Camping, Hiking, Boating, Biking, Gardening