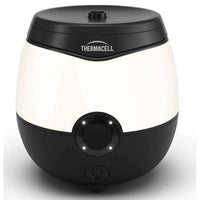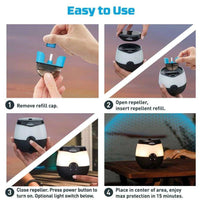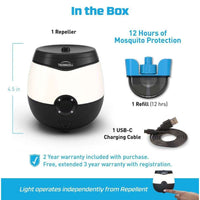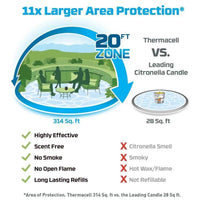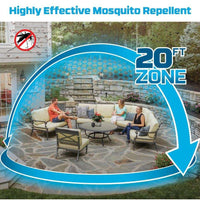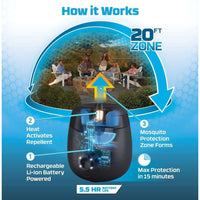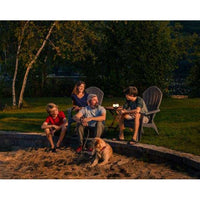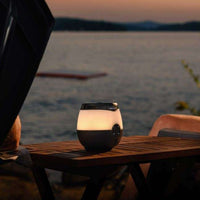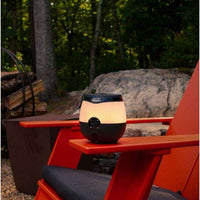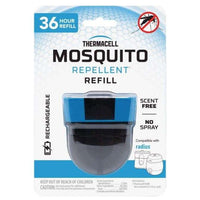 Thermacell EL55 Rechargeable Mosquito Repeller + Glow Light
For the backyard and beyond, the Thermacell E-series is easy to use and provides hours of scent-free, mess-free mosquito defense. The EL55 provides a 20-foot zone of advanced mosquito protection and up to a 9-hour battery life. This portable and compact repeller provides ambient dimmable light to create a warm, comfy space around your patio, deck, pool, and more. Audio cues and LEDs let you know when you're protected and how much battery life remains. Keep mosquitoes away with the simple push of a button.
Effective mosquito protection:

 

Rechargeable Lighted E-Series EL55 creates a 20-foot zone of protection against mosquitoes - 80% more area than our original line. Easy to use, one button keeps mosquitoes away. Now with dimmable, warm light to enhance your outdoor experience.
Heat-activated technology:

 

Powered by a rechargeable Li-ion battery, with up to 9 hours of mosquito protection when using only repeller; up to 5.5 hours when also using light. The light operates independently from repeller.
Effectively repel without spray or scent:

 

Repel mosquitoes without DEET sprays or lotions on your skin. Enjoy maximum protection in 15 minutes.
Long-lasting defense:

 

12 hours of mosquito repellent included.  Unscented, liquid-repellent cartridge is easy to replace. Stay protected even longer with a 36-hour repellent refill (sold separately).
Advanced repellent:

 

Independently tested and EPA-reviewed for safety & effectiveness. Repels tough mosquitoes, including those that may transmit Encephalitis, West Nile Virus, and Zika Virus. People and pet friendly.
Thermacell guaranteed:

 

Extend warranty to 3 years with registration (automatic 2-year warranty included). Backed by the Thermacell Guarantee. See packaging for details.
INCLUDES:

 

One 9-hour rechargeable repeller with a built-in rechargeable Li-ion battery, dimmable light, one 12-hour refill cartridge, and a USB-C charging cable. 
mos
The Replacement Thermacell Rechargeable Mosquito Repeller Refills will give you 36 hours of relief! (Optional 72 hour also available)
|
IMPORTANT: Do not store with battery completely discharged. Batteries should be charged at least once every 3 months during storage. Battery should be discharged and charged after being stored more than a year to maintain optimal battery capacity
Lantern Color: Assorted
Sizing (LxWxH): 4 x 4 x 6 inch [10.16 x 10.16 x 15.24cm]
Weight (lb): 0.8lb [0.362kg]
Hours of Protection Included: 12 Hours

Battery: up to a 9-hour battery life -

up to 5.5 hours when also using light

The light operates independently from repeller.

Light: Ambient dimmable light

Zone of Protection: 20 Feet [6.1m]
Active Ingredient: Metofluthrin
Ideal for use while you are gardening, observing outdoor sporting events, and hanging around the backyard.