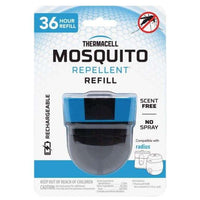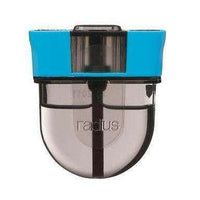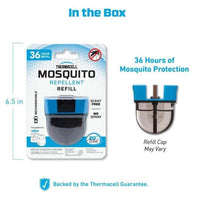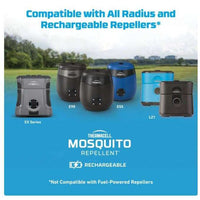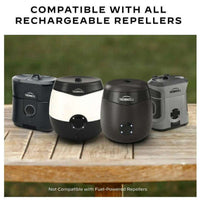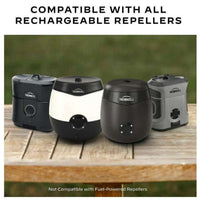 Thermacell Rechargeable Mosquito Repeller Refills - 36 Hour
Stay protected for up to 20 feet with our most advanced repellent refill ever. Thermacell Rechargeable Repellent Refills are compatible with all Thermacell rechargeable Repellers, including the E-Series and Radius Zone Mosquito Repellers.  Scent Free, No Mess, and Highly Effective.  Turn it On, Mosquitos Gone.
36-hour refill for your Thermacell E55 Rechargeable Mosquito Repeller or the New Thermacell EL55 Rechargeable Mosquito Repeller + Glow Light.

Works with last seasons Thermacell Radius Matrix E55 Rechargeable Repeller.
Rechargeable Refills create a 20-foot zone of protection against mosquitoes – our largest zone yet. This cartridge is compatible with all Thermacell rechargeable repellers.
Each scent-free refills provide 36 hours of on-demand, continuous mosquito protection. Portable and TSA-compliant.
Thermacell rechargeable devices are powered by a lithium-ion battery. Heat activates the repellent to provide maximum protection in 15 minutes. Portable and TSA-compliant.
Repel mosquitoes without DEET sprays or lotions on your skin. No smoke, flames, or strong scents like citronella. Independently tested and EPA-reviewed for safety & effectiveness. People and pet friendly.
Backed by the Thermacell Guarantee. See packaging for details.
Includes One 36-hour repellent refill.
One Size
Dimensions: [LWH] 2.75" x 0.8" x 0.75" [6.98 x 2.03 x 1.90cm]
One 36-hour refill
36-hour refill only for Thermacell Rechargeable Repellers use. [E-Series and Radius Zone]
Active ingredient: Metofluthrin
Zone of Protection Size: 20 Feet
Warranty: 1 Year Satisfaction Guarantee
Usage: Cottage, Backyard, Pool, Campground